Master Thesis
Development of an algorithm for grouping of surface patches and application to plant images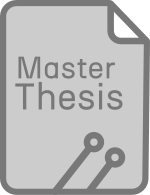 Information
If you are interested in the proposal, please contact with the supervisors.
Description
Symmetry, shape, and color provide important cues for object recognition. In the EU project GARNICS (''Gardening with a cognitive system''), we aim to segment plant leaves from combined color/depth images. So far, colored surface patches, describing the 3D shape and the color of the patch, can be extracted from the images using a recent method. The student will develop an algorithm for grouping of these surface patches, using criteria such as symmetrie, shape, and color, to obtain larger structures which should ideally correspond to the leaves of the plant. The developed algorithm will be tested on plant images acquired during the project.

1. Acquisition of depth/color images using an RGB and a PMD camera.
2. Extraction of color surface patches.
3. Development of a criterium for grouping color surface patches into larger structures, here plant leaves.
4. Formulation of the grouping task as an energy minimization problem and implementation of an appropriate algorithm for minimizing the energy function.
5. Testing of the method and evaluation using the plant images data set.