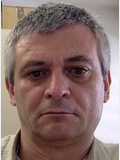 Ramon Costa Castelló
Profesor Titular de Universidad
Subline:
rcosta (at) iri.upc.edu
93 4017290
Ramon Costa-Castelló was born in Lleida, CATALUNYA, SPAIN in 1970, obtained the master degree in computer science in 1993 from the Facultat d'Informàtica de Barcelona (FIB) from the Universitat Politècnica de Catalunya (UPC), in 2001 he obtained the PhD degree in computer science Currently, he is an Associate Professor at the Automatic Control department (ESAII).
As contributor
European Project

Start Date: 01/12/2015
Regional Project

Start Date: 01/11/2016
National Project

Start Date: 01/01/2016
Regional Project

Start Date: 01/06/2016
Publications
V. Sanz, R. Costa Castelló and C. Batlle. Combined heat and power using high temperature proton exchange membrane fuel cells for comfort applications, XV Simposio CEA de Ingeniería de Control, 2017, Salamanca, pp. 29-33.