Master Thesis
Model Predictive Control for Robotic Cloth Manipulation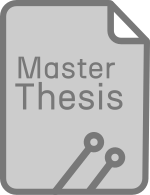 Information
If you are interested in the proposal, please contact with the supervisors.
Description
This project aims at using Model Predictive Control [1] an a cloth model being developed at our institute in order to manipulate cloth with robotic arms.

Model predictive Control uses a system model in order to perform a control action while keeping in mind a prediction of the system's behavior. We will use a new formulation for cloth modelling and non-linear model predictive control to make a robot move a certain piece of cloth, following our desired motion.

This project aims at students looking for challenges in the emerging field of MPC. Some skills recommended for the candidate are:
- Some background in programming (matlab and/or C++)
- Control background
- Non-linear optimization
- Good level of algebra and calculus

The project also aims at publishing the results of this project in a conference.

[1] Lars Grüne, Jürgen Pannek. "Nonlinear Model Predictive Control". Springer Communications and Control Engineering series. Springer, 2017.