Master Thesis
Topological Analysis of Simulated Cloth manipulations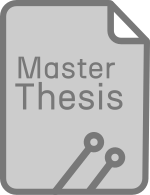 Information
If you are interested in the proposal, please contact with the supervisors.
Description
We offer a position for a student to contribute in the TASC project. TASC aims at the analysis of simulated cloth manipulation via a novel topological representation, using different approaches from Machine Learning and additionally performing statistical analysis on the classifications obtained.

The student will be supervised by Dr. Fabio Strazzeri.

Some skills recommended for the candidate are:
- Computations Topology
- Python 3
- Clustering algorithms and Regression models

Remuneration:
This work will be remunerated via an INIREC grant and is expected to have a duration of 4 months (extendable for 4 more months), with a dedication of 20h/week and a remuneration of 525€/month.

We can design a work plan to do either a TFG or a TFM.
The work is under the scope of the following projects: