Master Thesis
Learning from Demonstration of cloth manipulation assistance tasks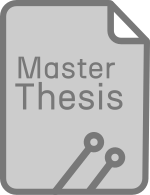 Information
If you are interested in the proposal, please contact with the supervisors.
Description
Assistive robots allow disabled and care-needed persons to gain independence in daily personal tasks. An important step forward in this trend is to assist people while clothing themselves or, more generally, while manipulating garment parts. Such type of assistance has to be user-friendly and user-shaped, in the sense that the robot has to acquire such skills directly from people who are not expert robot programmers. Learning from Demonstration is a robot programming paradigm based on the execution of tasks before the robot and allows the system to acquire the significant features of the skill, such that they can be later executed under varying conditions.
Objective
The objective of this project is to provide a robotic system the capability of learning cloth assistance skills from demonstrations.
Methodology
This project requires to address the following topics:
Determine the most suited learning algorithms for this type of task that are neither simple trajectories or gestures, nor high-level tasks. Hidden Markov Models and Gaussian Mixture Models have been successfully used in the past for similar problems, but a prospective study reviewing the state-of-the-art is required.
Establish which visual and haptic information allows to evaluate the progress of the task during execution.
Face the problems of the processing of images of deformable objects and of low intensity of force signals.
Implement user-friendly interfaces and procedures for allowing non-expert users to teach the robot dressing assistance skills.
Prospective case studies will consist in putting a sleeve on the arm of a mannequin or to present a jacket for dressing up.
The candidate will have access to the robots and sensing devices of our Perception and Manipulation Lab.
Pre-requisites
This project is ideal for master students with
Some notions on signal processing and in particular of Computer Vision.
Good programming skills in C/C++