TFG
Analyzing Protein Motions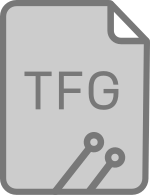 Information
If you are interested in the proposal, please contact with the supervisors.
Description
Deep understanding of protein function requires knowledge about its motions. Biochemical experiments such as NMR order parameter measurements, relaxation dispersion, hydrogen/deuterium exchange, etc. can all provide limited insights but are costly and extremely time consuming. Protein motions can also be modeled with molecular dynamics (MD) simulations. However, this approach is impractical as it takes a prohibitive amount of computational power to simulate large-scale motions. Even massively parallelized MD simulations with special-purpose commodity computer clusters such as Anton, could achieve only up to 1 ms time scale simulation, while many biologically significant motions occur on hundreds of milliseconds to several seconds timescale. Due to the rapid increase in the number of entries in the protein data bank (PDB), there is a pressing need to develop both fast and accurate computational methods for protein motion analysis.
Objective
The objective of this project is to combine recent advances in rigidity theory with the motion analysis tools developed in the Kinematics and Robot Design group at IRI, already implemented in the CuikSuite software. The idea is to decompose the proteins in rigid parts, and generate the possible relative motions between such parts. The effort of the project concentrates on the implementation of the rigidity theory tools in the CuikSuite. The integration of this suite with protein visualization tools could also be included in the project.
Methodology
This project essentially combines two tools
Pre-requisites
The objectives of the project can be adjusted according to the interest of the candidate.
This project is ideal for students with
Good programming skills in C/C++.
Interest in bioinformatics.
Interest in mathematics.