TFG
Variable Impedance Control with Movement Primitives in Latent Spaces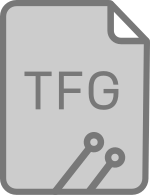 Description
The aim of this project is to understand, test and improve the stochastic representation of robot motion, which provides us with a time-varying precision requirement. This precision can then be used as a reference for setting the stiffness/rigidity with which a robot moves - a crucial element in human-robot interaction -. Then, for learned tasks, we can separate the task space into a relevant part (which needs to be controlled for task fulfilment) and a secondary part (which can be exploited for secondary goals). We will work on both of them in order to obtain a better controller for human-robot interaction in tasks like placing a scarf around a mannequin -or a person's- neck. See http://www.iri.upc.edu/groups/perception/#ScarfTask

Profile of the student:
We are looking for a Grau student from mathematics/mechanical/industrial engineering, or a Master student; with an interest in control, machine learning, and robotics. This work is intended as a TFG/TFM and will aim to publish an article at an international robotics conference.

Some valuable skills are:
- Linear Algebra: Matrix and vector operations, eigenvalue/vectors manipulation and understanding.
- Probability and Statistics: Statistical inference with Gaussian distributions. Understanding of Bayesian inference and Expectation Maximization methods is a plus.
- Mechanics and Control: Understanding of a mechanism's equations of motion, basic control schemes, etc.
- Programming in C++ and/or Matlab

Remuneration
This work can be remunerated through an INIREC grant. This grant is expected to have a duration of 6 months, with a dedication of 20 hours per week, and a remuneration of around 500 € per month.

How to apply
Send an e-mail to jobs@iri.upc.edu with your CV and academic transcripts.

The work is under the scope of the following projects:
LatCom: Variable Impedance Control with Movement Primitives in Latent Spaces During Compliant Manipulation (web)