PhD Thesis
Wind Power Plant Control Strategies for Ancillary Services Participation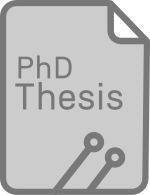 Information
Started: 01/10/2016
Thesis project read: 27/07/2017
Description
The objective of this thesis is to propose distributed control strategies for wind farms aimed to regulate the active and reactive power injected into the grid in order to provide frequency support, voltage stability and other grid support services. The aim is to consider the individual behaviour of each turbine in the farm and to achieve a coordinated behaviour to fulfill the TSO's demands. The control strategies will cover the different control levels needed to achieve the previous mentioned objectives.

Main tasks:
- Modelling of wind farms considering the individual wind turbine limitations.
- Developing distributed control algorithms for wind farms to optimise the global energy capture.
- Developing distributed control strategies to achieve a suitable aggregated behavior of the wind farm to provide grid support.

Main expected scientific results:
- Wind farm models oriented to the design of distributed control strategies.
- Distributed control algorithms to provide grid support capabilities.
The work is under the scope of the following projects:
INCITE: Innovative controls for renewable sources integration into smart energy systems (web)