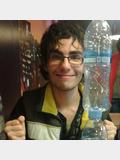 Alejandro Suárez Hernández
PhD Student (FI)
Subline:
asuarez (at) iri.upc.edu
93 4015791
My PhD Thesis
Started:
05/06/2018
As contributor
European Project

Start Date: 01/01/2017
Regional Project

Start Date: 01/01/2017
Publications
A. Suárez, C. Torras and G. Alenyà. Practical resolution methods for MDPs in robotics exemplified with disassembly planning. IEEE Robotics and Automation Letters, 4(3): 2282-2288, 2019.

A. Suárez, G. Alenyà and C. Torras. Interleaving hierarchical task planning and motion constraint testing for dual-arm manipulation, 2018 IEEE/RSJ International Conference on Intelligent Robots and Systems, 2018, Madrid, pp. 4061-4066.