Research line
Computational Robotics

The COMPUTATIONAL ROBOTICS Group carries out research on the design, construction, motion analysis, and control of complex mechanisms and structures. In robotics, these devices are parallel manipulators, multi-fingered hands, reconfigurable mechanisms, or cooperating robots, to name a few, but they appear in other domains too, as mechanistic models of locomotive organisms, molecular compounds or nano-structures.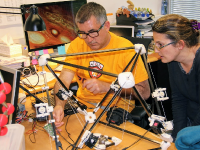 Tech. transfer
Our activity finds applications in several fields through collaboration with our technological partners
Facilities
<< Back to Computational Robotics main page
These are the latest research projects of the Computational Robotics research line:
These are the most recent publications (2022 - 2021) of the Computational Robotics
Computational Robotics Laboratory
The Computational Robotics Laboratory was created to investigate the computational and implementation aspects that arise in the design, construction, and control of advanced robotic systems. Among these systems we can highlight parallel robots, anthropomorphic robotic arms, intelligent prostheses, biomechanical support systems for movement or rehabilitation, or other robots of various topology that, due to having sensory capacity and of sufficient adaptation, they can interact with humans in an agile and safe way. The activity of the laboratory focuses on the analysis and construction of robotic prototypes to validate positional analysis algorithms, collision detection, characterization of the configuration space, calculation of singularities, obtaining workspaces, kinematics and direct or inverse dynamics, or planning and optimal control of trajectories.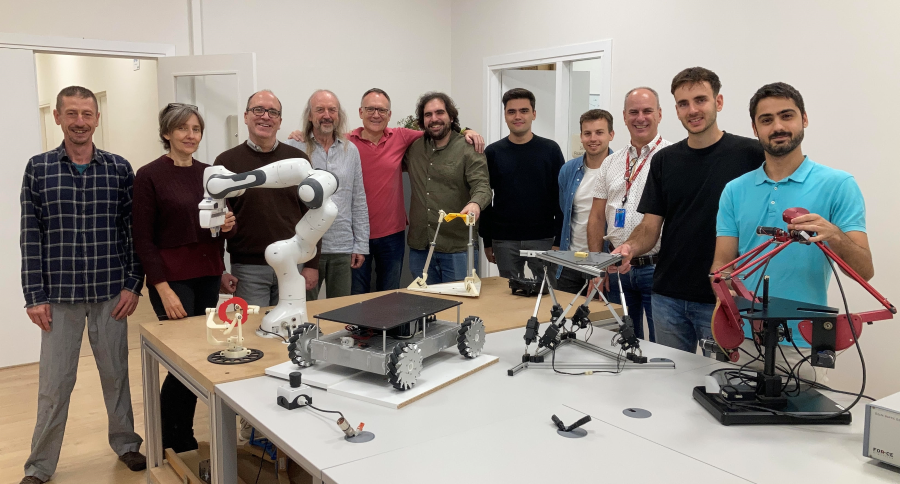 Researchers
PhD Students
Master Students
TFG Students
Support Staff