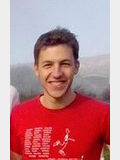 Enric Corona Puyané
PhD Student (FPI)
Subline:
ecorona (at) iri.upc.edu
93 4015791
As contributor
National Project

Start Date: 01/01/2018
Publications
E. Corona, G. Alenyà, A. Gabás and C. Torras. Active garment recognition and target grasping point detection using deep learning. Pattern Recognition, 74: 629-641, 2018.

A. Gabás, E. Corona, G. Alenyà and C. Torras. Robot-aided cloth classification using depth information and CNNs, 9th Conference on Articulated Motion and Deformable Objects, 2016, Palma de Mallorca, Spain, in Articulated Motion of Deformable Objects, Vol 9756 of Lecture Notes in Computer Science, pp. 16-23, 2016, Springer.