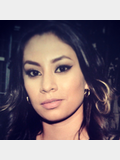 Jenny Lorena Diaz Castañeda
PhD Student (FI)
Subline:
jdiaz (at) iri.upc.edu
93 4015806
My PhD Thesis
Started:
01/04/2017
Publications
J.L. Diaz and C. Ocampo-Martínez. Energy efficiency in discrete-manufacturing systems: insights, trends, and control strategies. Journal of Manufacturing Systems, 52: 131-145, 2019.

J.L. Diaz, C. Ocampo-Martínez and H. Alvarez. Nonlinear moving horizon estimator for online estimation of the density and viscosity of a mineral slurry. Industrial and Engineering Chemistry Research, 56(49): 14592–14603, 2017.