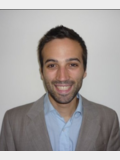 Javier Garcia López
PhD Student (Doctorat Industrial)
Subline:
jgarcia (at) iri.upc.edu
My PhD Thesis
Started:
01/09/2016
As contributor
Regional Project

Start Date: 01/01/2017
Publications
J. Garcia, A. Agudo and F. Moreno-Noguer. Vehicle pose estimation using G-Net: Multi-class localization and depth estimation, 21st Catalan Conference on Artificial Intelligence, 2018, Roses, in Artificial Intelligence Research and Development, Vol 308 of Frontiers in Artificial Intelligence and Applications, pp. 355-364, 2018, IOS Press.