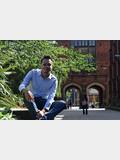 William Oswaldo Chamorro Hernández
PhD Student
Subline:
wchamorro (at) iri.upc.edu
93 4054490
My PhD Thesis
Started:
12/09/2018
I got my bachelor degree in Electronics and Control egineering in Ecuador and a Master in Mechatronics in Newcastle University in Uk. My field of interest is related to: control theory,robust control and computer vision. Currently I am focused on event based Slam.
As contributor
National Project

Start Date: 01/12/2022
National Project

Start Date: 01/09/2021
CSIC Project

Start Date: 01/07/2021
Publications
W.O. Chamorro, J. Solà and J. Andrade-Cetto. Event-based line SLAM in real-time. IEEE Robotics and Automation Letters, 7(3): 8146-8153, 2022.