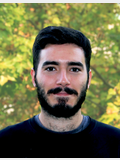 Juan Antonio Delgado Guerrero
PhD Student
Subline:
jdelgado (at) iri.upc.edu
As contributor
European Project

Start Date: 01/01/2018
Regional Project

Start Date: 01/01/2017
Publications
J.A. Delgado-Guerrero, A. Colomé and C. Torras. Contextual policy search for micro-data robot motion learning through covariate Gaussian process latent variable models, 2020 IEEE/RSJ International Conference on Intelligent Robots and Systems, 2020, Las Vegas, NV, USA, pp. 5511-5517.