Research Project
TenSeBot: Estudio de estructuras tensegrity para el desarrollo de sensores manipuladores y robots móviles
Project Code
DPI2006-14001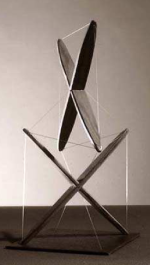 Project Description
The objective of this project is to perform a preliminary analysis of the possible use of tensigrity structures as a new approach to the construction of mobile robots with different shapes and properties that usual robots, wheeled or legged, do not have. Tensegrity are light, deformable structures that may be able to adapt their form to unconstrained environments.

For more information see the project web page.
Project Publications
Journal Publications
J. M. Mirats Tur and S. Hernández. Tensegrity frameworks: dynamic analysis review and open problems. Mechanism and Machine Theory, 44(1): 1-18, 2009.