Research Project
NAVROB: Integration of robust perception, learning, and navigation systems in mobile robotics
Project Code
DPI 2004-05414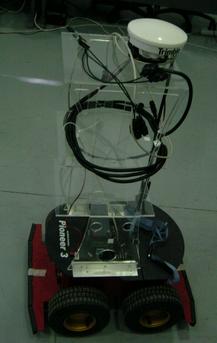 Project Description
The primary goal of this project is to make an integrated system that includes perception, learning, and navigation systems for mobile robots in urban or compatible industrial surroundings. In these environments the surface is irregular, illumination conditions are varying, and the disposition of the objects and the obstacles is dynamic; reasons why it constitutes a challenge to obtain robust algorithms under these circumstances. By providing different systems for robust perception, the mobile platform should be able to autonomously generate a navigation map of the environment that will in turn serve to enrich a geographic information system (GIS). The objects learned by the system will, at the request of the user and through a graphical interface, be added to the database automatically. In the same way the user will be able to teach to the robot specific tasks to be accomplished in such enriched environment, by means of verbal or written commands, or even guided by vision. Once the sequences are learned, the robot should be able to execute one of these tasks autonomously, being able to react in dynamic conditions, and contiunuously update a map data base. The project starts from the results achieved in two previous projects funded by CICYT in 1998 and 2001, and granted to the principal investigator. In our previous projects we developed supervised learning techniques using active vision on our mobile robots MARCO and ANNA.
In this project we will develop robust low and high level perception techniques improving or contributing to new methods of color constancy with the aid of color histogram transformation and adaptation, to novel algorithms for segmentation of texture and color images, to the acquisition of depth maps, and to the fusion of all these techniques in order to obtain robust descriptions of the elements of the scene. Also, new techniques of learning and recognition of objects by synthesis of probabilistic graphs will be analyzed and implemented, and by indexing with matroids, and by contributing with new measures of coincidence between graphs. Furthermore, we will provide new methods for the detection and tracking of objects and people by fusing color, texture, geometry, active contours and depth information in real time using structural and probabilistic techniques. These methods will be primarily used for the identification and tracking of people or objects during the navigation of the mobile robot. With regards to self localization, we will work in new techniques based on sensor information from a laser rangefinder, stereo vision, color, audio, DGPS and a digital gyro, combined with autonomously generated maps or pertaining to an existing GIS. For the automatic construction of maps, we will continue work in our theoretical contributions and implementations of stochastic estimation techniques for SLAM (Kalman and particle filters), fusing information of one or more of the mentioned systems of perception. The information in such autonomously generated maps will continuously be matched and fused to that of a GIS. Finally, new techniques for the assisted learning of tasks will be developed, based on stochastic automatas and refinement methods.
The applications of this type of mobile robots include monitoring and surveillance task; the inspection and maintenance of industrial facilities; cleaning and monitoring of public areas; autonomous navigation of wheeled chairs in unstructured and dynamic settings; autonomous museum tour guides; or new generation of mobile platforms tailored to help in domestic tasks; among others.
Project Publications
Other Publications
J. Andrade-Cetto and A. Sanfeliu. Environment learning for indoor mobile robots. A stochastic state estimation approach to simultaneous localization and map building. Volume 23 of Springer Tracts in Advanced Robotics. Springer, 2006.
J. Gonzàlez, F. Xavier Roca and J.J. Villanueva. Research steps towards human sequence evaluation. In Advances in Computational Vision and Medical Image Processing, 105-115. Springer, 2009.