Research Project
PAU+: Perception and Action in Robotics Problems with Large State Spaces
Project Code
DPI2011-27510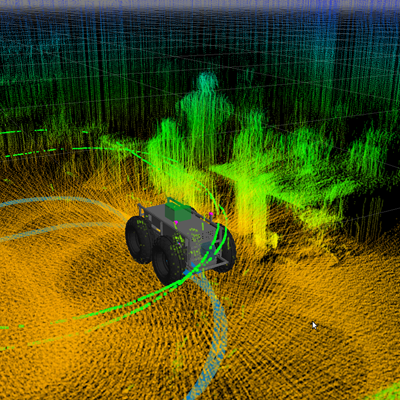 Project Description
Project web page.

Summary:
The project goal is to contribute to the theoretical foundations of computational models of perception and action and their application to the solution of challenging robotics problems with large state spaces. The majority of the methods and techniques studied in this project have as pillars Bayesian estimation on one side, and geometrical models in robotics and computer vision on the other.

The application domains of the project are mobile robot mapping and navigation, and perception and manipulation of deformable objects. Although very different in nature, these two applications share many similarities with respect to the formalism of perception, estimation and exploration. The most important aspect is that both types of systems are commonly represented with very large state spaces.

This project is the continuation of the PAU project (DPI2008-06022), in which we mainly studied, for the abovementioned application domains, novel uncertainty parameterizations that allow efficient inference, new probabilistic hypothesis testing strategies with respect to information load, active exploration paradigms for scene and object reconstruction, and new algorithms for rigid and non-rigid object reconstruction from single images.

During the course of PAU, uncertainty in motion and sensor models has been treated with the aid of stochastic filtering methods. We will still explore and extend these mechanisms for efficient inference, but also concentrate on smoothing techniques over Bayes networks, which for large-scale systems show better convergence properties and behave also better with respect to nonlinear approximations.

Another lesson learned from our research in PAU is that we need imaginative ways to parameterize or reduce the solution space; for instance, by using deformation modes in the case of deformable objects, or by state and constraint pruning with regards to information content in the case of SLAM. In PAU+ we will extend these ideas of reduced state representation from perception to action, seeking optimal navigation paths in the ensuing sparse Bayes graph, or by characterizing a small set of distinctive deformation configurations for manipulation planning. The addition of a foreign Ramón y Cajal researcher to the group brings fresh ideas with regards to these higher level semantic representations in the context of action recognition and replication.

Specific expected scientific contributions for PAU+ include efficient online probabilistic inference algorithms on graphical models with applications to simultaneous localization and mapping (SLAM) and for rigid shape estimation; their extension to non-rigid object reconstruction and pose estimation using both geometric and appearance constraints; as well as robust pose estimation for uncalibrated vision systems. At a higher level of abstraction, we foresee the creation of novel optimal navigation strategies over belief networks, action recognition in manipulation tasks from video sequences, and learning manipulation skills through demonstration.

The two applications, outdoor mobile robot mapping and navigation, and shape recovery and manipulation of deformable objects are commercially highly relevant robotics technologies, as endorsed by our EPOs. With the development of such technologies, the project will contribute to more flexible and general use of robots in industrial processes, as well as more robust service robots able to navigate and cooperate in previously unknown and unstructured environments.
Project Publications
Other Publications
E. Trulls Fortuny, I. Kokkinos, A. Sanfeliu and F. Moreno-Noguer. Dense segmentation-aware descriptors. In Dense Image Correspondences for Computer Vision, 83-107. Springer, 2016.